Good Morning All.
I hope you are all well.
We have another new release over at Little Miss Muffet and today its Polka Dot Pals!! Here is my card:
Barbara held a mini competition on the LMM facebook page to name this gorgeous image and
Debbie
came up with Chrissie! Debbie won a GDT for this release so please make sure you check out her gorgeous creation here! You can find this image and the rest of the release at the LMMS here.
I have used one of the facial features on the image which was fun to play around with! She is coloured with copics and I have used papers from Authentique called Joyous. The dies are Memory Box Precious Ornaments. The ribbon, fancy button and rhinestone sparklers are all from the Hobby House. A touch of glamour dust to finish off!
Please do pop over and see the rest of the beautiful creations from the talented DT. Also a couple of things before I go. Don't forget Barbara is having a "going going gone" sale at the moment. Click on the link below and be quick!
Finally don't forget our current challenge which is still running for another week, the theme is "Spooktacular"! Click on the link below.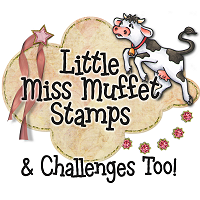 Right, I think that's it!! Have a great day!
Card Ingredients
Stamp/Image - Chrissie - Polka Dot Pals; LMMS;
Paper/Card - Joyous - Authentique; Bazzill CS;
Colouring Mediums - Copics - Skin - E11, E01, E00, E000, R20; Hair - E57, E55, E53, E51, Clothes - R29, R27, R24, YG67, YG17, YG03; Boots/Lantern - E77, E74, E71, E70; Faux Fur - E40, E41, E42, E43;
Dies/Punches - Memory Box Precious Ornaments;
Other - RIbbon; Fancy Button; Rhinestone Sparkler; Pearls, Glamour Dust;